Dr. Edith Hayles, Director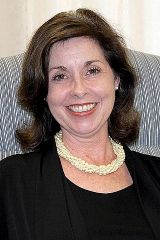 Most recently the Director of the Mississippi Council on Developmental Disabilities, Dr. Hayles is no stranger to NMRC - having served as a staff member from 1989 until 2006 in three campus departments: Resident Living, Education, and Community Transition Services. She began employment at NMRC as a Direct Care Trainee and soon moved to the Education Department. After earning teaching credentials in special education, she was an Academic Teacher for 10 years and was instrumental in developing and coordinating the Hopkins Adult Program Recycling Program with the City of Oxford.
In 2004 she accepted a position in the Community Transition Services Department as Education Coordinator for all teachers at NMRC's community based programs, and then became Assistant Director of the department before accepting the position as Director of the state Council on Developmental Disabilities in 2007.
Dr. Hayles holds undergraduate degrees from the University of Mississippi and Delta State University, a masters degree in special education from the University of Mississippi, and a Ph.D. in curriculum and instruction and special education from the University of Southern Mississippi. She is a certified teacher with AA endorsement in both mild/moderate and severe/profound disabilities.